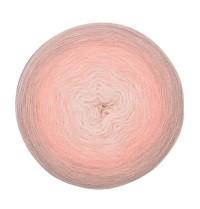 Rico Creative Wool Dégradé Powder 001
Reference: RICO-Wool Dégradé-Powder-001
£14.95
Creative Wool Dégradé creates knitted garments with wonderful Dégradé effects. The yarn colour changes from one end of the ball to the other in gentle phases. The thread is spun with four thin threads in different nuances, which together create a great colour picture. On the inside of the ball band is a detailed instruction for a modern triangular scarf in the popular degrade look.
Composition: 70% Acrylic 30% Wool
Ball weight: 200g
Meterage/Yardage: 800m
Needle size: 4mm
Tension: 24 stitches, 32 rows to 4 inches / 10 cm on 4mm needles
For the scarf in the size 65 x 170 cm, one 200 g ball is required.