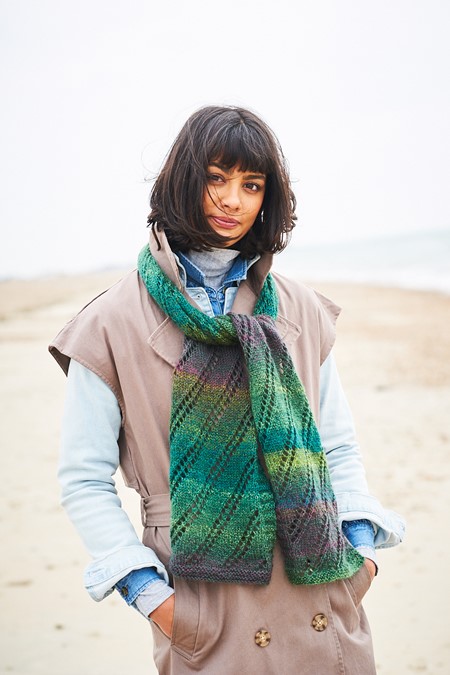 Charm Scarves Pattern 9882
Reference: STY-CHARM-PATTERN-9882-SCARVES
New In
£2.99
Charm - This charming lace weight yarn is perfect for making delicate shawls and accessories. Its blend of acrylic, wool & mohair gives it a very light and delicate feel while its colour swirl nature knits up to reveal beautifully subtle colour changes. Each garment takes just a single ball in the smallest size. Feather light & gossamer soft.
Scarves
Three stunning shawls are featured here, each with their own eye catching stitch detail. There is the option of a lace edge scarf in Grey Mist, a triangular scarf in Deep Water and a lace scarf in Dragonfly.
You will need: 1 p air 4½ mm (UK 7 - U SA 7) knitting needles for lace scarf and shawl. 1 pair 5 mm (UK 6 - U SA 8) knitting needles f or all scarves and shawl.
Lace edge scarf
Sizes
2 5.5x183cm 10x72in
Charm Lace Weight, Grey Mist 3624
75g
Triangular scarf
Sizes
4 9.5x180cm 19½x70¾in
Charm Lace Weight, Deep water 3627
90g
Lace scarf
Sizes
2 5x142cm 9¾x56in
Charm Lace Weight, Dragonfly 3628
65g