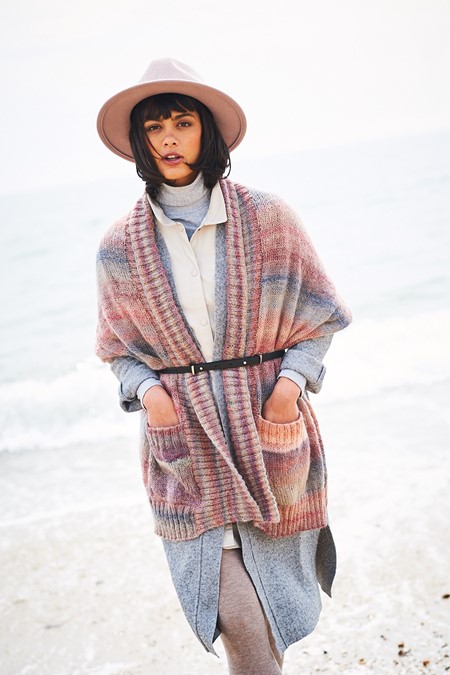 Charm Ponchos & Cape/ Shawl Pattern 9879
Reference: STY-CHARM-PATTERN-9879-SHAWL
New In
£2.99
Charm - This charming lace weight yarn is perfect for making delicate shawls and accessories. Its blend of acrylic, wool & mohair gives it a very light and delicate feel while its colour swirl nature knits up to reveal beautifully subtle colour changes. Each garment takes just a single ball in the smallest size. Feather light & gossamer soft.
Ponchos & Cape/ Shawl
If you're looking for the perfect poncho, you will be spoilt for choice with this pattern. The squared asymetrical poncho has a lovely texture throughout, while the diagonal version shows off the colour colour stripe nature of this yarn beautifully. But that's not all. There is also a beautiful oversized shawl with a wide ribbed collar and pockets for extra warmth.
You will need: 1 p air 4½ mm (UK 7 – U SA 7) knitting needles and 1 pair 4 mm (UK 8 – USA 6) knitting needles for ponchos. 1 4 m m (UK 8 – USA 6) 100cm circular needle for diagonal patterned poncho. 1 p air 5 mm (UK 6 – USA 8) knitting needles, 1 pair 3¾ mm (UK 9 – USA 5) knitting needles and 1 3¾ mm (UK 9 – USA 5) 100cm circular needle for cape/shawl.
Cape/shawl
Sizes
81-91cm 32-36in
97-107cm 38-42in
112-122cm 44-48in
Charm Lace Wight, Autumn Dusk 3626
195g
2
2
Squared asymmetrical poncho
Sizes
81-91cm 32-36in
97-107cm 38-42in
112-122cm 44-48in
Charm Lace Wight, Dragonfly 3628
165g
2
2
Diagonal Patterned Poncho
Sizes
81-91cm 32-36in
97-107cm 38-42in
112-122cm 44-48in
Charm Lace Wight, Deep Water 3627
165g
1
2