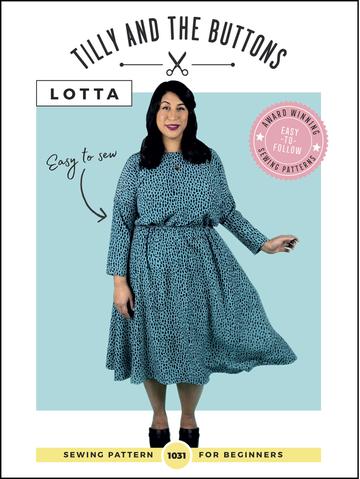 Tilly and the Buttons Lotta Dress
Reference: TILLYANDTHEBUTTONS-LOTTADRESSPATTERN
New In
£15.50
SIZE RANGE - UK 6-24 / US 2-20 / EUR 34-52
Easy to make, with no fiddly bits, Lotta is a perfect dressmaking project for beginners, or a satisfyingly speedy sew for more experienced stitchers. It has a blousy bodice and flared skirt, cinched in with a narrow elasticated waistline.
Choose between knee-length or midi-length skirt, with grown-on short sleeves or bracelet-length drop shoulder sleeves, with optional deep patch pockets. To make it even more versatile, you can make this dress in either woven fabric or stretchy jersey.
SIZE RANGE - UK 6-24 / US 2-20 / EUR 34-52
SKILL LEVEL - Beginners
More information below, click on the tabs for more information.
Suggested fabrics: Light- to medium-weight drapey fabrics such as chambray, viscose (rayon), Tencel (lyocell), double gauze, brushed cotton or crêpe. The short sleeve version can also be made in less drapey fabrics such as linen, cotton lawn and seersucker. More experienced? Try single knit drapey jersey, stretch velvet or light-weight French terry.
Fabric requirements:
150 cm (60″) wide fabric: Knee-length, 2.5 m (2 3/4 yd) // Midi-length, 2.8 m (3 1/8 yd).
115 cm (45″) wide fabric (sizes 1-4 and knee-length skirt only): Knee-length with bracelet-length sleeve, 2.9 m (3 1/4 yd) // Knee-length with short sleeve, 2.5 m (2 3/4 yd).
All sizes of the knee-length dress and sizes 1-6 of the midi-length dress will also fit on 140 cm (56″) wide fabric. Sizes 7-8 of the midi-length dress will fit on 145 cm (58″) wide fabric.
Sizing: 1 – 10 (UK 6 – 24). Please check the pattern sizes.
Notions: Matching thread; 0.2 m (1/4 yd) iron-on interfacing (for woven fabrics only, similar weight to your fabric); your waist measurement in 10 mm (3/8″) elastic; 2 safety pins.