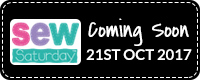 Sew Saturday 21st October
Needlecraft has teamed up with "Sew Magazine" in a nationwide event happening on the 21st October, bringing you prizes,discounts,competitions, raffle and so much more to celebrate bricks and mortar stores like us!
On the day we will be hosting a range of events:
-DISCOUNTS: we will have 15% discount off Cotton Poplin, 10% discount off all Craft Fabric, 10% off Fashion Fabrics, 40% of certain Craft Fabrics if buying the remaining fabric on the bolt.
-RAFFLE: various prizes to win and all proceeds go to Children in Need.
-COMPETITION: a competition will be running throughout the day to "Guess how many buttons are in the jar" and the winner will receive a fat quarter bundle.
-GOODY BAGS: the first ten customers who buy fabric receive a goody bag.
-FREE DRINKS & CAKES: saving the best till last, free drinks and cakes will be available all day.
See you there!